June 2014



North Attleboro High School
Alumni Association
Summer 2014 Newsletter

Association News

Greetings Friends and Fellow Alumni,

I hope you are enjoying the turn towards warmer weather and getting to spend some quality time with your friends and family. On behalf of the Alumni Association, we wanted to send a summertime newsletter that informs all of the NAHS Alumni what the association has done throughout the year. We also wanted to inform you of upcoming activities that we are sponsoring to give everyone a chance to get involved.

Towards the end of 2013, we sponsored our third annual Patriots Raffle. Kerrina Brown, NAHS Alumni Association supporter and associate at the Hockomock YMCA was the winner. However, due to scheduling, Kerrina had donated the tickets to Mike Weygand, NAHS Class of 1999 and Mike's father Ted. Mike and Ted got to enjoy the Patriots beat the Buffalo Bills 34-20 at the December 29th game at Gillette Stadium. The net proceeds from the raffle totaled more than $1,000.

In January, we held our 6th Evening of Recognition cocktail night at the Highland Country Club. The event was a nice opportunity to hear from fellow alumni who have excelled in their lives either professionally or personally. There were four award recipients including Captain Kyle Van DeGiesen ('98), posthumously, and Major Stephen Travers ('82), both recipients of the Joseph W. Martin, Jr. Distinguished Alumni Award, Michael Flynn ('06), recipient of the Young Alumni Award, Elizabeth "Betty" Poirier ('60), recipient of the Community Impact Award. Plaques for these four distinguished individuals are proudly hung in the Main Lobby of the High School next to the other fifty plaques awarded to recipients of this event dating back to 2007.

In March, we expanded our alumni association to include two student interns, who will be assisting us in fundraising efforts and spreading awareness. Sakshi Wadhwa is a Junior at NAHS who has worked very hard to achieve the top ranking amongst her peers. In addition, Sakshi participates in many clubs; such as Science Club, Math League, Leo Club and Project Teammate, and has spent countless hours volunteering as well as in athletics. David Simonds, also a Junior at NAHS is an honor student, who like Sakshi, has made the most of his time at NAHS. David is a multi-sport athlete, in the National Honor Society and also participates in many clubs such as Model Senate and the Student Coalition Against Racism. Thus far, both Sakshi and David have been extremely supportive and done an excellent job volunteering with the NAHS Alumni Association.

In April, we kicked off the Capital contribution campaign. Inserts were placed in the Free Press and donation letters were distributed throughout North Attleboro requesting donations. The High School is 100% Wi-Fi and as a result, the NA School Department is introducing the "Bring Your Own Device" initiative which allows students to bring their own lap tops to school.



However, not all of our students have the technology to enable them to take advantage of this, which is why we are calling on you to make a donation!



Our goal is to raise $5,000 which will go directly towards the purchase of lap tops for our students to use during the school day. We have provided a copy of the Fundraising Letter in this e-newsletter (by clicking here) or you can go online at www.nahsalumni.org to donate.

Included in the eNewsletter are many updates from recent activities at the High School in Academics, including interviews from current students, Athletics and the Arts. In addition, catch a glimpse of our top ten students, some of colleges our graduates will be attending in September and be sure to see what's going on in the lives of your classmates in Alumni News and Announcements. Last and certainly not least, we wanted to honor the memory of a former NAHS teacher, Mr. Edward Shockro, who recently passed away.

I hope you enjoy this latest edition of the newsletter. We continue to try to spread the word about our mission and the deep needs we are trying to fill at the High School. Please forward this newsletter and be sure to check out our Facebook page.



All the best,

Thomas Pirri '02
NAHS Alumni Association President




The 3 A's at NAHS

Arts:

NAHS Music Department Accomplishments 2013-2014

The Music Department had a wealth of accomplishments, accolades, and successes this school year. Each year, thousands of students from around the state audition to perform in one of five district music festivals. The district you audition in is based on your geographic location in Massachusetts. This year in our Southeast District, North Attleboro had its best showing with 10 acceptances to Southeast Massachusetts District Junior Music Festival and 21 acceptances to Southeast Massachusetts District Senior Music Festival. Following this audition, students with exceptional scores from each district are invited to audition against the best from around the state. This year, once again, North Attleboro was well represented with 4 students earning a spot to perform.

Our many music ensembles had successful years as well. Silver medals were earned for Concert Band, Concert Chorus, & Select Choir at the Massachusetts Instrumental & Choral Directors Association Competition, a Bronze medal for Jazz Band at the Massachusetts Association of Jazz Educators Competition, and Superior ratings for Concert Chorus, Concert Band, Jazz Band, Marching Band, Percussion Ensemble, & Select Choir at the Rhythms International Music Festival in Montreal, Quebec, Canada.

Dr. Teresa Coffman and Arielle Rogers, from Rhode Island College worked with our Concert and Women's Choirs giving clinics on vocal and ensemble technique. Our Concert Band also had a clinic with Dr. James Patrick Miller, Director of the University of Massachusetts Wind Ensemble


Academics

Trip to Spain

Rachel Farris, the treasurer for the Class of 2015, recently was awarded an all-expense paid trip to Spain to study Spanish. She credits the desire to speak to people in their native tongue for her love of the language.

Farris stumbled across the opportunity online, and was chosen from applicants across the nation, with the lucky winners coming from all walks of life.

"I'm really excited about meeting and getting to be around other students who love Spanish, and meeting friends from across the country" stated an excited Farris. "I have done research with my former Spanish teacher Ms. Hanley about what I should purchase; adapters, currency, among others. Soon we will be in contact with the other members of the trip to begin coordinating the finer details of the trip".

Farris will leave in June 2014, visiting major cities in Spain and experiencing the linguistic and cultural aspects of the Hispanic nation firsthand; providing invaluable educational exposure.

Farris intends to enroll at a college or university following her graduation in 2015, and hopes to study Spanish and study abroad one day.

Science Fair

Shrey Dhingra, Abhishek Ram, and Sishir Pasumarty, all of whom are current sophomores at NAHS, were the recipients of several prestigious awards after attending regional, state, and international science fairs in 2013. Such awards included NOAA's Pulse of Planet award, Outstanding Sustainability Award, Biophysics Award, and an invitation to ISWEEP (International Sustainable World Energy Engineering and Environmental Project Olympian) held in Houston Texas.

The team hypothesized that one could use the heat released from decomposing biomass (anything that was once alive) to heat homes, providing a more eco-friendly, less wasteful alternative to oil.

"We began by testing various kinds of leaves, and then we proposed the idea that we use the heat released from decomposing biomass to heat the home" stated Abishek Ram.

Starting at the school-wide science fair, the team steadily rode their innovative idea through state, regional and then finally international competitions held in Houston.

Heading into the international fair, the team of three was understandably nervous. "We were actually very nervous," said Dhingra. "It was our first time competing with smart minds [from] all over the world". "But in the end we still blew people away with the fact that we're freshman" Abhisek later added.

At the conclusion of the international science fair, the team was able to earn a 3rd place finish amongst 393 teams, placing them amongst the top tier in the world.

Acting as the physical embodiment for the innovation prevalent in the halls of North Attleboro High School, the team of three was able to prove that global impact and visionary outlook can find its roots in an environment such as North Attleboro.


Athletics

Outdoor Track and Field

Over the course of the last few years, North Attleboro Track and Field has seen itself grow to one of the premier programs in Massachusetts, proudly holding a combined 19-1 dual meet record over the last two years, claiming both the Division II State championships and the Hockomock League title in 2013.

On May 24th, 2014, North Attleboro sought to defend their title at the Hockomock League Meet at Stoughton High School. Boasting one of the deepest rosters in the league, North Attleboro sought to oust Mansfield, whom they were narrowly defeated by in the regular season, handing North their only loss for the year. Senior captain Ryan Croke, a stand-out 400 meter runner, credits the depth of North Attleboro for their second place finish.

"We had some key performances with Sean Gimler getting first place in the 200, Will Reissfelder winning the discus with a personal record, and Jake McKinnon coming back from a disappointing 400 hurdles to win the 110 hurdles." said Croke.

Croke later added, "...we had a lot of guys step up especially some young ones so I'm happy with how the day went."

Both Captain Ryan Croke and Junior Hockomock All-Star Sean Gimler elaborated on what it means to be a North Attleboro athlete.

"All North Attleboro athletes are hard workers, dedicated to their sport, and know a strong tradition and expectation of winning. North Attleboro sports have helped me and countless others achieve all of this" stated Croke. Gimler then added, "It becomes rewarding [being a North Attleboro athlete] after you work your tail off in the offseason and see how much success you achieve during the season."

Although North Attleboro finished second in the meet, their focus did not waver as they prepared to defend their state title, an accomplishment that has never been achieved by the boys outdoor team.

Ryan Croke plans on attending Quinnipiac, upon graduating from North Attleboro and Sean Gimler will return to the track next year, hoping to pick off where this year's stout senior class left off.

Lacrosse

On Wednesday, May 28th, North Attleboro Lacrosse faced Foxboro in their second ever playoff game since the program began in 2006. With reigning Hockomock All-Star Patrick Kimball in goal, and Senior Captains Connor Mastropoll and James Kummer providing on field leadership, North Attleboro was able to jump ahead to an early lead on a blistering, rainy day.

With strong attack play from North's abundance of skilled players compounding Kimball's stout defensive play, North Attleboro defeated the lower seed Foxboro in a match that tested both the team's physical ability and their mental ability to disregard the less than desirable conditions.

Kimball commented on the progression of the team throughout the year, and how this progression galvanized the team into a strong playoff contender. Kimball stated, "In the cold days of March we barely knew each other whereas now in late May, we truly are brothers on the field... all in all, this has been the best year, record wise, in North lacrosse history and I can honestly say I'm beyond proud to say I'm part of this brotherhood."

Kimball later added that to be a North Attleboro athlete means to be "tough","gritty", and willing to "fight through the pain, give it your all, and have the will to win."

Patrick Kimball plans to return to the net next year and help progress North Attleboro Lacrosse even further than it has done thus far.


NAHS Alumni Association Award Recipients

There is no better way to build strong community feeling amongst NAHS alumni and students than to recognized honorable alumni. All 54 plaques are now prominently in the Main Lobby of the North Attleboro High School where students and visitors pass them every day. Students are reminded of the greatness that has come out of NAHS and this fuels their aspirations to become great themselves.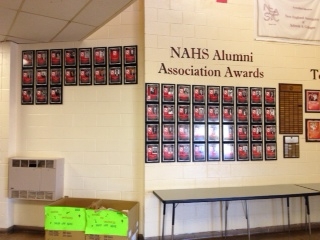 North Attleboro Graduating Class 2014 Top Ten
Valedictorian: Daniel William Colvin
Attending: Northeastern University
Salutatorian: Catherine Roukhadze
Attending: MIT


(By Alphabetical Order)
Julia Rose Caudle
Attending: UMASS Amherst
Emily Ann Chandran
Attending: UMASS Amherst
Joyce Chen
Attending: Northeastern University
Marissa Jane Gifford
Attending: Assumption University
Jesse Chen Li
Attending: Purdue University
Brieanna Rose Martin
Attending: Harvard University
Alison Elizabeth McHugh
Attending: UMASS Amherst-Honor
Melissa Mirza
Attending: Simmons College



List of Donations & Volunteers

Donor Giving

The commitment of those listed in the following pages is North Attleboro High School's greatest sources of strength. The parents, alumni, students, friends, faculty, staff and businesses give of themselves for the greater good of the school. We value and appreciate the many ways in which their active participation improves the everyday experiences of those at North Attleboro High School. We offer our sincerest thanks to all those who contribute. We thank you for your generosity and for supporting the NAHS Alumni Association.

Principal's Society (Gifts of $100 or more):
Class of 2002 - Timothy Stuart
Class of 1946 - Richard Beaupre
Class of 1983 - Jim Fong
JD Bradley
Margo Brissette
Justin Kwan
Thomas Pirri
Total Lawn and Landscape
Patricia Smith
Nancy Vigorito
Virginia Walkins

Rocket Club (Gifts of $50 - $99):
Karen Colleran
Sharyn Dunn
Jeffrey Redding
Katie Feid Bloom

NA Contributor's Club (Gifts of $1 - $49):
Jonathan Allen
Karen Bengston
James Buratti
William Burke
Michael Chabot
Rhodda Crandall
Stephen Doucette
Joe Farroba
Joan Grosse
Thomas Howard
Elisabeth Klarwasser
Meeghan Kummer
Janice Lacasse
Sharyn LaClair
Joanne Mullaney
Ashley Nerz
Sheila Quinlian
Courtney Smith
Brian Zibuda
James and Janet Hale
Mitch MacDonald

Volunteers

We would like to sincerely thank all who have donated their time and effort to help North Attleboro High School in its continued effort to provide an outstanding education to its students. Our volunteers are the cornerstone of North Attleboro High School Alumni Association's ability to meet its goals; we could not achieve success without you!

Thomas Pirri
Keith LaPointe
Mitch MacDonald
Sean Fisher
Katie Fied-Bloom
Jack Johnson
Amanda Dean
Sakshi Wadhwa
David Simonds
Tammy Dean
Scott Holcomb
Lynn Weigel


In Memoriam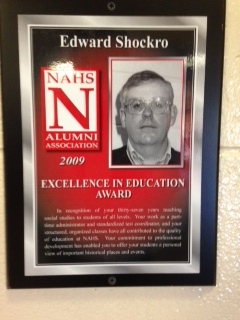 The North Attleboro High School Alumni Association mourns the loss of Mr. Edward Shockro, beloved NAHS history teacher of 42 years, who passed away on March 12, 2014, after a long battle with leukemia. Mr. Shockro had intended to retire at the end of this school year.

Students from the honors level to level three will remember Mr. Shockro as their teacher of American History, World History, General Psychology, Child Psychology and English, beginning in 1972. His lessons were often punctuated with anecdotes from his many trips to military outposts, including his 1997 participation in the United States Naval War College Current Strategy Forum.

Many will also remember that Mr. Shockro could often be found in the main office substituting for Principal Wilson Whitty or Assistant Principal Ken Pickering when they were out of the building. Others might remember Mr. Shockro as an official for high school football, basketball and baseball games for several years, and as a judge for the Rhode Island Academic Decathlon.

Mr. Shockro received a number of commendations throughout his career. In 2009, the NAHS Alumni Association honored Mr. Shockro with its Excellence in Education Award. That same year he was honored by the Daughters of the American Revolution as their Outstanding American History Teacher of the Year for the Attleboro Area and for the Commonwealth of Massachusetts.

In addition, Mr. Shockro won several competitive grants from the National Endowment for the Humanities and from the GildnerLehrman Institute of American History to travel to landmarks throughout the country during the summers to further expand the knowledge he shared with his students.

Mr. Shockro proudly held dual citizenship with the U.S. and Ireland and enjoyed volunteering his time in Ireland during the summer.

The entire NAHS Alumni community offers its condolences to Mr. Shockro's daughter, Dr. Sally Shockro; his sister, Kathleen Shockro, a long-time member of the NAHS Foreign Language department; and his brother, Timothy.


Alumni News and Announcements



---1950s---


1953 - Roland Hawkes is thoroughly retired from an academic career of teaching and researching at several universities in the US and Africa. He recently moved back to Maine, where he was born. In the warm part of the year he volunteers as a historical tour guide. If you go to Portland you might find him guiding at the Portland Observatory, the last standing marine signal tower in the country. http://portlandlandmarks.org/observatory/



---1960s---


1964 - The Class of 1964 will be celebrating their graduation from NAHS fifty years ago during the weekend of October 18, 2014. The main event will be held at the Providence Art Club on Saturday evening, October 18th. The evening will include socializing, picture presentation, music, and dinner. It promises to be a wonderful evening with many classmates planning to attend. They also have events planned for Thursday, the 16th and Friday, the 17th. Invitations with the complete information will be sent out in May. If you have any of your prom pictures(the ones with the "big" hair) or any candid picture, scan and email them to David Turinese at turind2002@comcast.net. If you would rather send the originals to David, please label them, and David will scan them. We will return them to you. We also could use help locating some of our classmates. If you have an address, both street and email, for any of those listed below, please send to Jo-anne Galvin Sheehan at joasheehan@gmail.com.

1969 - The Class of 1969 is planning their 45th reunion on October 11 at the North Attleboro Elks at 6 PM. They're still trying to track down some classmates, and have a Facebook page called "NAHS Class of '69". Please contact Deb Carr at dcarr51@gmail.com for more info.



---1970s---


1970 - Sara-Lynn Reynolds is running for the State Senate Seat here in Massachusetts. The District is the Norfolk-Bristol-Middlesex (NBM). It includes 12 towns, North Attleboro is one of them. Check out her her website www.ElectSaraLynnReynolds.com!

1974 - Susan Bennett retired from corporate life as Group Director-Human Resources for Tiffany & Co. on February 1, 2014 and is headed south to Florida. She has opened a shop on Etsy (SusanBennettCreation) offering sewn items such as bags and quilts.

NAHS Class of 1974 will be holding their 40th reunion Aug 2 at Country Gardens in Rehoboth. Reunion invitations will be mailed within the next few weeks. They are still looking for addresses for the following classmates: Russell A. Watson, Jr., Edward Kirylo, Robin (Lowney) Favoli, Ronald Merigold, John S. King, Mona (Allen) Oullette, Katherine (Letellier) Eaton, Paula (Girard) Leveque, Linda Hayman, Michelle ( St. Pierre) Bradley, Raymond Petti, Marsha (Cotter) Callahan, Laura (Champagne) Slowey, Beth Tolliver, Cindy (Northup) Fallow, Pamela (Mackill) Worthington, Diane Healy, Kathleen Benoit, Robin Berard, Barbara Crossley, Donna Derosier, Kevin Diamond, Patricia Gowan, Alfred James, Kathleen Jones, Cecile Landry, Theresa Ogni, David Parenteau, Cindy Roberts, Don Roberts, Charlotte Roy. Please contact Laurie (Munore) Carpenter at laurie4756@aol.com with any information!

1977 - David Paulhus and Donna-Marie (Kenney) Paulhus welcomed their first grand-daughter Gem-Marie Poirier on April 4, 2014. Gem's proud parents are Megan-Maire (Paulhus) Poirier (2005) and Jeff Poirier. Gem was was 8 lbs. 1 oz. and 21 inches.



---1980s---


1985 - Jim Cappuccino was recently elevated to Principal at Hutker Architects, Inc. Jim is a graduate of Roger Williams University. He joined Hutker Architects in 2005 and was named Senior Associate in 2010. Prior to joining the firm, he spent several years with a prominent western mountain region architecture firm where his work garnered numerous design awards and editorial coverage. Over the last eight years Jim has been involved with many of the firm's award winning and published projects and has established himself as a leader in design excellence within the firm and community. Jim is a member of the American Institute of Architects, Boston Society of Architects, and an active member of the Upper Cape Toastmasters Club. He is licensed in Massachusetts, Wyoming, Vermont, and Maine, and certified with the National Council of Architectural Registration Boards. Jim lives in East Falmouth with his wife and son.



---1990s---


1994 - Tara Bennett recently named of the 2014 Harvard Heroes for the Faculty of Arts and Sciences at Harvard University. Harvard Heroes is a University-wide staff recognition program that acknowledges and celebrates the significant contributions of staff members from across the University. This program is another way, in addition to our own FAS Dean's Distinction, for us to recognize and celebrate outstanding FAS staff members. With many exceptional candidates from all over the University, only a few individuals from over 12,000 Harvard staff were selected as Harvard Heroes in 2014.



---2000s---


2002 - Eric and Teresa (Bowen) Smith, and big sister, Abby welcomed baby Ainsley.

Darren Nixon lives in Ellicott City, Maryland and welcomed his third child, Violet. Darren along with his fiancé Ashley, have a boy, Taylor and another girl, Sienna.

Sarah Weygand Krieger got married on June 2, 2012 in Middleburg, VA. Sara and her husband moved to Leavenworth, Kansas in July 2013. Sarah is currently a florist and attends the University of Kansas pursuing a degree in Community Health

Tom Pirri got engaged in December 2013 and is getting married at the Red Lion Inn on November 21, 2014 to Katherine Armstrong, a resident of North Attleboro and Bishop Feehan alumna.

2008 - Colleen Geoghegan along with boyfriend, Thomas Coughlin, welcomed daughter Charlotte Ann Coughlin on July 26, 2013. Born at Newton Wellesley Hospital, she was 6 pounds 8 ounces and born at 5:25pm.

2009 - Chris Winn has a new job at the University of Hartford. He has been hired to serve as an admission counselor. He has also begun to pursue hismaster's degree in higher education; student personnel administration at Springfield College.


Many thanks to all who contributed to this newsletter!

To share news about your accomplishments, births, marriages, promotions, or anything else you feel is newsworthy, send your notes to katebloom7@gmail.com and we will publish them in our next e-newsletter.

IMPORTANT Privacy Information: E-mail communication from the North Attleboro High School Alumni Association will ALWAYS include links to www.nahsalumni.org. There are many "for-profit" web-based firms that may attempt to create the impression they are affiliated with North Attleboro High School Alumni Association. We are not. They may send you e-mails with links to their sites. Visiting their sites and providing them contact information could compromise your privacy.

Finally, please remember to log on to www.NAHSAlumni.org to update your personal information!